Customise Your iPhone with Unique and Stylish Cases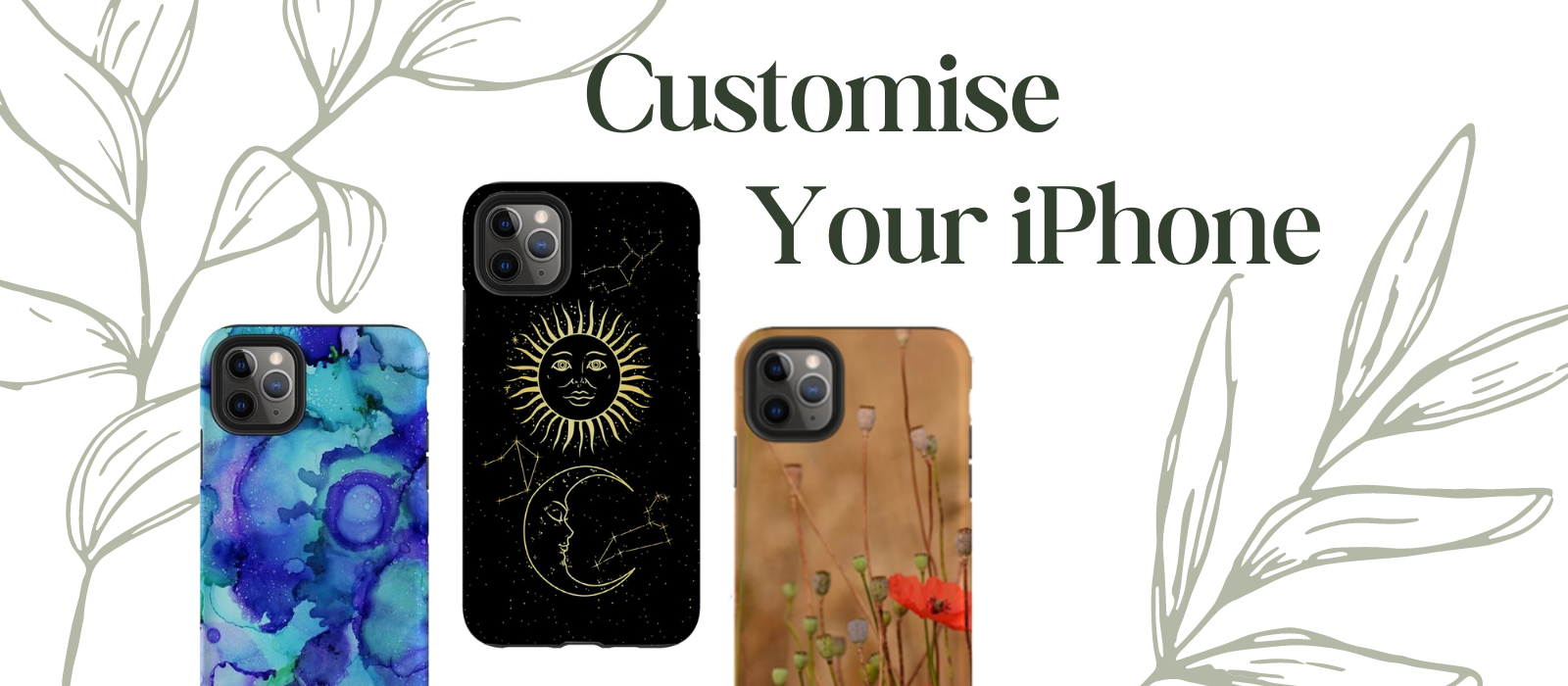 We all have that thing we love. We search near and far, from store to store, to try and get our hands on it. For iPhone users, that might be a unique and stylish case. Whether you're a minimalist looking for a sleek and simple case, or you want to make a statement with a bold and colourful design, customising your iPhone case is a great way to show off your personality.

Discover tips on customising your own case and ideas to get started. So let's search around and find the perfect, unique, and stylish case - because your iPhone deserves it.
Reasons to Choose Custom iPhone Cases
When it comes to customising your iPhone with a unique case, there are numerous reasons to choose an individualised one. Perhaps the main reason is that custom cases let users express their personal style through art and photography, resulting in a fantasy-like touchscreen device brimming with originality. On top of being aesthetically pleasing, customised cases also offer robust protection against everyday wear and tear. As such, you can protect your expensive gadget from damage while also sporting some eye-catching art or graphic design.

Furthermore, custom cases give users the opportunity to display artwork or images of loved ones on their phones. The sentimental value of having a beloved family portrait—or even a cherished pet photo—on display at all times can't be underestimated. There has been a steady stream of research that shares the mental health benefits of keeping photos of family members nearby (1). Showcasing imagery of people or pets you care about can be a source of comfort and inspiration during challenging times—all while sprucing up your tech-savvy look and feel through personalised cases.
In sum, custom cases offer numerous advantages: they enable users to shrewdly express themselves while protecting their iPhones from scratches and damages. With customisation, you get the chance to pick from virtually endless possibilities by browsing professionally designed artwork or submitting your own. Each case is thoughtfully crafted to bring out the best in whatever motif you select. And now, transitioning smoothly into the next section – how about we focus on those factors that make customising your iPhone such a delight?
Personalise Your Tech-Savvy Look & Feel
Customising your iPhone with a unique and stylish case is one way to express your personal sense of style, while also maintaining a tech-savvy look and feel. From graphic cases depicting sports teams to abstract artwork, the possibility is endless when it comes to adding a personal flair to your phone. Some people may argue that custom cases are too expensive or unnecessary, however, they provide both functional protection and a way to express yourself in a highly individual fashion.

Take, for example, Beyonce's iPhone case featuring her famous album cover "Lemonade" or Roger Federer's iconic limited edition Swiss flag case with his signature at the back. Even showcasing a personalised photo that reminds you of an important moment or person can be profoundly meaningful when done tastefully. Regardless of whether you're making a statement or preserving memories with these unique avenues of personalising technology, it's intriguing the depths of creativity available for tech-savvy customisation.

Having said that, custom iPhone cases not only provide you with an opportunity to create an authentic expression of yourself but can also bring along real-world protection. To protect your device from potentially damaging everyday wear and tear, head into the next section for more tips on protecting your beloved phone.
Key Points
Customising your iPhone with a stylish case is an effective way to express your personal style while also maintaining a tech-savvy look. There are many ways to do so, from graphic cases to abstract artwork to personalised photos - with these customisations you can make a statement or preserve memories. Custom iPhone cases not only provide an opportunity for creative expression but also offer protection from everyday wear and tear.
Protect Your iPhone From Damage
Personalising and styling your iPhone requires protecting it with a case. With all of the options available today, you can balance style, protection, and convenience when searching for the perfect case. But if you don't recognise the importance of protecting one of your most expensive and important devices, it could suffer irreparable damage.

Modern cases crafted from high-quality materials are designed to protect iPhones from drops and other types of physical damage while providing a stylish and unique look.
On the other hand, many people feel that having a case on their phone hampers its natural aesthetic beauty too much or interferes with usability. While these opinions shouldn't be discounted entirely, it's important to remind those individuals that carefully selected cases are worth the investment for keeping their expensive devices safe from any incidentals. Moreover, newer cases allow access to buttons, ports and controls without sacrificing protection; meaning that days of overly bulky cases are long behind us!

Nowadays, you no longer have to make a compromise between security and aesthetics when picking a custom iPhone case design; protective new technologies mean you can find a case that is as beautiful as it is functional. As such, taking the necessary steps to protect your pricey tech should always be a priority when looking for an attractive and unique way to personalise your mobile device. Moving forward, we will discuss how choosing the right custom case design can help you express yourself while keeping your device safe and sound.
Choosing the Right Custom iPhone Case Design
When it comes to iPhones, customisation is an incredibly important part of protecting your device and ensuring that you stand out. Not only do custom cases help ensure that your phone is kept safe from damage, but they also let you express yourself with unique designs and colours. With so many options available, however, it can be difficult to decide on the right custom design for your iPhone case.
In order to make a decision, consider what type of aesthetic complements the look of your iPhone. While some people prefer a colourful case with abstract designs or slogans, others may opt for a plain case with just a few accents of colour. Still, others could pick an intricately patterned case to add more interest. In addition to considering style, there are two other main factors when choosing the right design for an iPhone case—protection and practicality.
When looking at protective cases, you want something sturdy and durable that will keep your phone safe from bumps and scratches. It's also helpful to prioritize lightweight cases since these make it easier to hold onto and carry around your device. On the practical side, functionality features such as access to ports and phone buttons should be taken into account when selecting an iPhone case design.
Ultimately, when searching for the right custom iPhone case design there is no single right answer as every person's preferences are different. With a variety of styles available in different colours and prints, be sure to take all factors into consideration before deciding on one that suits you best. As you ponder on the perfect design, don't forget about the multiple colour options and stylish prints which can further enhance your personalised look—allowing you to make both a fashion statement and safely protect your device at the same time!
According to a 2014 study, approximately 80% of iPhone owners use protective devices such as cases for their phones.

According to an IDC report from 2019, Apple accounted for the majority (55%) of global smartphone sales in 2019, which means that there is a large market for cases for iPhones.

According to Statista, there has been an increase in revenue in the global phone case industry every year between 2015 and 2019, with a projected growth of 4.04% through 2021.
Multiple Colour Options & Stylish Prints
Following your decision to choose a specific custom iPhone case design, the next step is determining the colour and print that best suits you and your needs. Having a variety of options will only add to the uniqueness of your phone, which could be what makes it stand out from the rest. On the other hand, having multiple choices can also make deciding on one more difficult, as it elevates your level of responsibility for making sure you are getting the best product for yourself.

When it comes to colour selection, you have an array of hues to choose from ranging from subtle pastels to eye-catching neon shades. If you'd like to take it up a notch from monochromatic cases, many vendors have unique prints such as floral designs, animals, or abstract patterns that can bring an extra element of style to your device. Although it may initially seem overwhelming with all these different choices, keep in mind that you don't have to pick just one! With customisable iPhone cases, there's no limit on how creative and expressive you want to be with your phone's design.
Once you've settled on the perfect combination of colours and prints that reflect your style, it's time to begin shopping for custom iPhone cases. With a multitude of stylish products through which you can express yourself through them, there has never been a better time than now.
Shopping For Custom iPhone Cases
In order to customise your iPhone with an eye-catching case, you'll need to shop around for the right design. Many online stores are stocked with hundreds of options, so you don't have to settle for a boring clear case or a generic sleeve. Shopping for custom iPhone cases allows you to embrace your individuality and pick out something that perfectly reflects your personality and style.

When perusing possible options, look for cases that are made from durable materials like polymer or plastic. These materials typically provide more protection for your phone than thinner cases, which means your phone is less likely to break or get scratched if it's ever dropped or handled roughly. Additionally, pay attention to the details of different styles to ensure proper fit. If the case isn't snug on the device, it won't do its job well if any accidents do occur.

When debating what style of custom iPhone case to buy, it may come down to personal preference. Some people may prefer a subtle case that still offers protection without taking away from the classic lines of the device itself, while others might opt for eye-catching patterns like bold animal prints or abstract designs that make a statement. In either case, quality construction and materials should take priority over aesthetics; however, there are stylish options available that offer both form and function.

At the end of the day, customising your iPhone with a unique and stylish case is all about personal taste and preferences. Whether you like a minimalistic approach or something more colourful and daring, the world of designer cases has plenty of options available to make your phone stand out in a crowd.
Answers to Common Questions
What types of materials are used to make custom iPhone cases?
Custom iPhone cases are typically made from a variety of materials, including polycarbonate, TPU, silicone, and leather. Polycarbonate offers a lightweight yet durable option that can be customised with unique designs. TPU (thermoplastic polyurethane) is a flexible plastic material that provides additional protection for your device in addition to aesthetic appeal. Silicone also offers a degree of durability and a soft tactile feel for those who prefer softer cases. Leather cases often offer the highest quality of all materials and the most sophisticated look due to their luxurious textures and natural patinas; however, they can become scratched or stained over time. Ultimately, it comes down to personal preference when choosing which material is best for your customised phone case.
Do custom iPhone cases provide better protection than traditional cases?
Yes, custom iPhone cases provide better protection than traditional cases. They typically have a more robust design and construction with reinforced edges that make them more impact-resistant, providing defence against drops and other impacts. They are also often made of materials such as polycarbonate or thermoplastic polyurethane, which offers additional flexibility and grip as well as being scratch-resistant. In addition, custom cases may include protective cushioning or shock absorption technology that further enhances their protective capabilities.
Conclusion
Do you have great photos or your own design that you would like to have printed on your iPhone's case? You can now start creating your own style so it fits your personality more perfectly. This is an awesome gift to yourself to up your fashion game. But it's also a great choice for a gift for your family and friends - something personal and customised.
DesignIt by iCoverLover offers various phone cases suitable for different smartphones. Create a unique design for iPhone, Samsung Galaxy, Google Pixel, Huawei phones, Apple watch bands, AirPods cases, iPad covers and other gadgets. View all at https://designit.icoverlover.com/pages/customize-product.